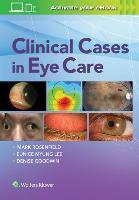 Dr. Mark Rosenfield, Denise Goodwin, Eunice Myung Lee
Selected as a Doody's Core Title for 2021!
Clinical Cases in Eye Care provides real-world case examples to illustrate the current scope of primary eye care practice. Over 120 clinical cases help readers gain familiarity with frequently seen scenarios as they would unfold in a typical setting. This case collection is a useful teaching and learning tool for instructors, students and clinicians.
Provides more than 120 clinical case examples written by global experts who discuss conditions that they encounter on a regular basis in the clinical setting.
Supports problem-based learning strategies used in contemporary eye care education, stimulating real-world questions and discussion throughout the curriculum.
Covers a wide range of cases commonly seen in today's practice, including refractive, perceptual, binocular vision, anterior and posterior segment, neurological and systemic disorders.
Includes a detailed account of patient history and clinical findings for each case, as well as the diagnosis, a sample treatment plan and clinical pearls from the contributing author.
Features detailed photos and illustrations throughout, many in full color.
Enhance Your eBook Reading Experience:
Read directly on your preferred device(s), such as computer, tablet, or smartphone.
Easily convert to audiobook, powering your content with natural language text-to-speech.

Download