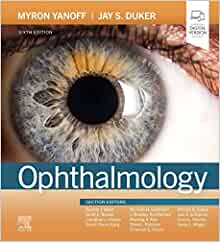 Myron Yanoff MD
Through five highly regarded editions, Ophthalmology, by Drs. Myron Yanoff and Jay S. Duker, has remained one of the premier texts in the field, providing authoritative guidance on virtually any ophthalmic condition and procedure you may encounter. The fully revised, 6th edition of this award-winning title continues to offer detailed, superbly illustrated content from cover to cover, with extensive updates throughout to keep you current with the latest advancements and fundamentals throughout every subspecialty area in the field. An easy-to-follow, templated format, convenient single volume, and coverage of both common and rare disorders make this title a must-have resource no matter what your level of experience.
Offers truly comprehensive coverage, including basic foundations through diagnosis and treatment advances across all subspecialties: genetics, optics, refractive surgery, lens and cataract, cornea, retina, uveitis, tumors, glaucoma, neuro-ophthalmology, pediatric and adult strabismus, and oculoplastics. 

Features streamlined, templated chapters, a user-friendly visual layout, and key features boxes for quick access to clinically relevant information and rapid understanding of any topic. 

Contains four new chapters covering Phototherapeutic Keratectomy; IOL Optics; Bag-in-the-lens Cataract Surgery; and Capsulectomy: Modern devices apart from FLACS. 

Includes a fully revised and updated chapter on refractive surgery screening and corneal imaging, as well as an expanded chapter on corneal cross-linking. 

Provides up-to-date information on the latest advances in the field, including new therapies for retinoblastoma, such as intravenous and intraarterial chemotherapy; less common retinal tumor simulators of retinoblastoma; OCT-Angiography; glaucoma stents; new drug delivery platforms; IOL optics; phototherapeutic keratectomy; intraocular pressure monitoring; and more. 

Includes more than 2,000 high-quality illustrations and an expanded video library with more than 60 clips of diagnostic and surgical techniques, including new videos of nystagmus. 

Contains updated management guidelines for central retinal artery occlusions (CRAO). 

Provides fresh perspectives from new section editors Drs. Carol Shields and Sumit (Sam) Garg. 

Enhanced eBook version included with purchase. Your enhanced eBook allows you to access all of the text, figures, and references from the book on a variety of devices. 
Download