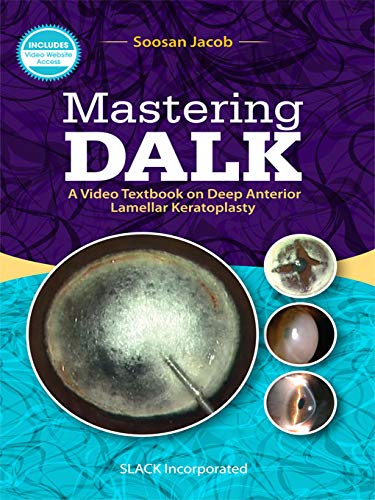 Soosan Jacob
Due to its instantaneous and visible results for patients both anatomically and visually, anterior lamellar keratoplasty is a field of great interest to corneal surgeons. Newer techniques of DALK, femtosecond assisted DALK, TILK, and more have inherent advantages that make them supersede older techniques of keratoplasty by far.
Mastering DALK: A Video Textbook on Deep Anterior Lamellar Keratoplasty by Dr. Soosan Jacob combines the practical explanation of written text with the dynamic demonstration of surgical videos.
From pre-operative to post-operative patient management and every surgical technique in between, this unique book and its included video website is a complete education on DALK. This includes the history and basics of lamellar keratoplasty, as well as tutorials on various surgical techniques currently in use, advice for complex situations, and management of possible complications.
Each chapter includes high-quality photographs and illustrations and is paired with videos on the accompanying website to demonstrate techniques and provide step-by-step instructions. The surgeries in these videos are performed and narrated by the same team of leading international experts who have also written all of the clinical tips, tricks, and pearls of wisdom throughout the book.
Some videos include:
Retrieving the Lost Bubble
DALK Surgery with Type 1 Big Bubble
Groove Peel DALK
Femtosecond Laser Assisted DALK
SMILE Away a Dermoid
Any surgeon looking to add anterior lamellar keratoplasty to their practice will appreciate the digestible nature of Mastering DALK: A Video Textbook on Deep Anterior Lamellar Keratoplasty, which provides both the crucial detail of a book and the irreplaceable value of visual demonstration.
Download