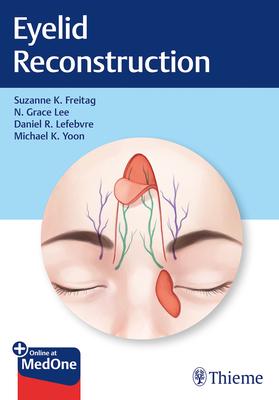 Suzanne Freitag, Nahyoung Grace Lee, Daniel Lefebvre, Michael Yoon
Highly practical eyelid surgery resource informs important reconstruction decisions and strategies
Skin malignancies frequently affect the periocular area, necessitating excision followed by eyelid reconstruction. Periocular trauma is also quite common, and because of the highly complex regional anatomy, requires expertise for effective reconstruction. Preparation by ophthalmic plastic surgeons prior to periorbital reconstruction is often not possible due to the unpredictability of defects left after Mohs micrographic surgeons clear tumor margins or in cases of trauma. Eyelid Reconstruction by renowned expert Suzanne Freitag and esteemed coeditors N. Grace Lee, Daniel Lefebvre, and Michael Yoon fills a void in the literature. The book provides a quick and practical ophthalmic plastic surgery guide on how to plan and perform a full spectrum of periocular reconstruction procedures.
The textbook is a compilation of patient cases and the authors' vast, richly diverse expertise. The book starts with two chapters covering complex periorbital anatomy and basic surgical principles, both of which are critical to performing safe and effective surgery. The third chapter provides a comprehensive overview of Mohs surgery in the periorbital area, an important topic given many defect reconstructions are secondary to Mohs micrographic surgical excisions. Subsequent chapters, organized by anatomic region, feature discussion of surgical approaches for reconstructions of various size and depth defects. The final chapter details eyelid trauma repair, including lid margin and lacrimal lacerations.
Key Features
An essential go-to pre- or peri-operative reference surgeons can consult quickly as reconstruction cases arise
Practical and concise procedural descriptions accompanied by numerous high-quality photographs and illustrations enhance comprehension
Chapters dedicated to medial canthus, lower eyelid, upper eyelid, and lateral canthus reconstruction procedures discuss special considerations based on underlying anatomy, adnexal structures, and required functions
This is a must-have resource for residents, fellows, and experienced surgeons in the fields of ophthalmic plastic surgery, ophthalmology, otolaryngology, facial plastic surgery, plastic surgery, dermatology, Mohs surgery, and maxillofacial surgery.
This book includes complimentary access to a digital copy on https://medone.thieme.com.

Download