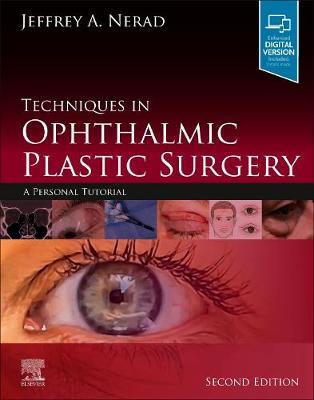 Jeffrey A. Nerad
This unique tutorial textbook offers beginners and experts the information to start or enhance an oculofacial surgery practice. Whether your background is Ophthalmology, ENT, Plastic Surgery or Dermatology, you will appreciate the "over the shoulder" approach to teaching as Dr. Nerad gives you the basics and the secrets of years of practice in the field. Covering everything from foundational concepts to state-of-the-art advances, this book contains over 500 illustrations and photos, superbly illustrating a step-by-step outline to today's oculoplastic surgical techniques, teaching diagnostic and procedural aspects of practice. The long-anticipated 2nd Edition of Techniques in Ophthalmic Plastic Surgery: A Personal Tutorial is a "must read" for any surgeon interested in the field.
Reflects current practice with significant updates throughout, including both cosmetic and functional procedures to improve "how you see and how you look." The latest aesthetic eyelid and facelift procedures and new filler and botulinum toxin techniques are presented. Functional procedures that are aimed at restoring vision are equally well described with clinical photographs and helpful diagrams.
Outlines important anatomy and diagnostic tips in addition to step-by-step procedural guidance.
Provides clear visual guidance with an outstanding combination of high-quality artwork, clear surgical photos, and online access to over 50 videos that depict select techniques and procedures.
Features checkpoint boxes and major point reviews in each chapter for self-assessment and as a quick reminder of critical points.
Includes comprehensive reference lists for further study.
Offers a unique, tutorial "one on one" teaching style. You will find the friendly conversational tone of the book unintimidating, and extremely useful for you to learn the most frequently performed oculoplastic surgical procedures.
Enhanced eBook version included with purchase. Your enhanced eBook allows you to access all of the text, figures, and references from the book on a variety of devices.

Download